Rx Pad
Improving the Health of Your Clinical Practice
Cardiac Surgery and Hyperbarics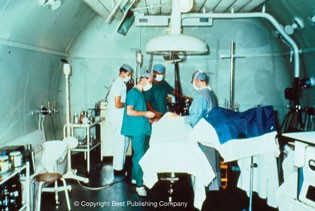 Question. What sparked the dawn of the modern hyperbaric era?
Answer. 1956 a true upsurge in hyperbaric surgery followed when Boerema and his colleagues used this in cardiovascular surgery. Hyperbaric surgery theaters were constructed around the world to conduct open heart surgeries. Unfortunately, the first and only indication at that time, being cardiac surgery, rapidly disappeared with the development and the perfection of the heart-lung machine. After the introduction of the heart and lung machine, hyperbaric surgery was used only on small children and babies until the refinement of the heart and lung machine allowed for use on this young population.
In 1960 the value of the treatment of gas gangrene was also found and the first patient was treated. Other indications that were studied were carbon monoxide poisoning, tumor growth, effects of cytostatics under pressure, experimental cancer in mice, impaired diffusion capacity of the lungs, ergot foot, Meleney's ulcers, vascular insufficiency of the retina and chronic vascular insufficiency of the extremities, rheumatic diseases, tetanus, sepsis, wound healing, cerebrovascular insufficiency, asphyxia neonatorum, organ preservation, diabetes mellitus and its complications, and gas emboli.
Many expectations were not fulfilled and gradually the true indications for hyperbaric oxygen treatment emerged.
Reference: Bakker, DJ, Cramer, FS. Hyperbaric Surgery: Perioperative Care. Flagstaff, AZ: Best Publishing Company: 2002.
MORE INFORMATION
Stay Informed
When you subscribe to the blog, we will send you an e-mail when there are new updates on the site so you wouldn't miss them.
Comments
No comments made yet. Be the first to submit a comment