Join us in Las Vegas, NV
March 22 - 25, 2019
Introduction to Hyperbaric Medicine
This course will provide you with basic training or continuing education in hyperbaric medicine.
This course meets the CMS requirement for physician supervision and billing of hyperbaric oxygen therapy; and is
a precursor to getting the UHMS PATH or ABWM certificate of added qualification.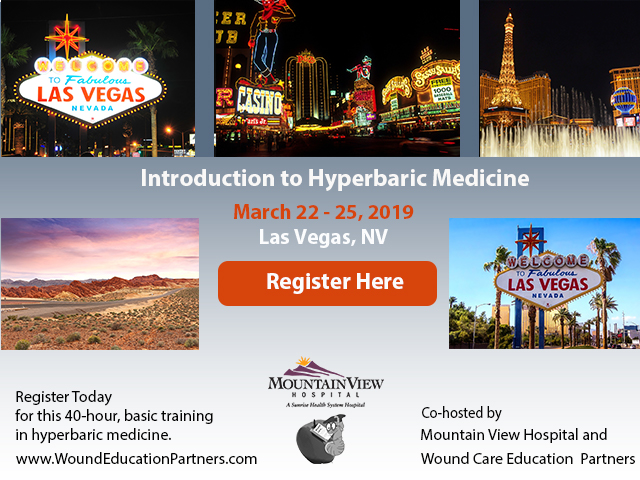 ---
At Wound Care Education Partners your success is our business.
We take special pride in being able to deliver nationally accredited, world-class educational courses to our client's doorstep. WCHMEDIA GROUP, INC (d/b/a Wound Care Education Partners) is a professional medical education company comprised of specialized educators who are licensed and/or board certified in their area of expertise. Our focus is on providing high quality and meaningful healthcare educational programs to medical facilities and clinics, home healthcare agencies and individuals. We offer live accredited courses as well as a complete library of online CME/CNE/CEU accredited courses.
Our flagship live courses are:
Please visit the About Us page to learn more about our company and our approach to education.

---
Why Choose Wound Care Education Partners?
Affordable - We recognize the importance of value. Our courses, whether live or online, are offered to you at the lowest rate possible. Our business model is designed so as to keep our overhead low without sacrificing quality, thus offering you the most competitive course fees in the marketplace.
Flexible Scheduling - Live courses are conveniently scheduled around the customer's needs. With our newly expanded online learning programs, you can access classes from wherever you are, whenever you need, from any computer that has internet access.
Approved Credits - Every one of our live and online courses have been reviewed and formally approved for accreditation by nationally recognized CME/CNE/CEU providers, including: the Undersea and Hyperbaric Medical Society (UHMS), Wilderness Medicine Society (WMS), Florida State Boards of Podiatric Medicine, Nursing Respiratory Therapy and Nursing Assistants, and the National Board of Diving and Hyperbaric Medical Technology (NBDHMT). Please see our Accreditation Statements for the complete details.
Credentialed Faculty - Our faculty is comprised of the most respected and trusted authorities, practitioners and scientists. Whether you participate in a live course or an online course you will be learning from expert faculty.
Cutting Edge Science - The primary objective when planning our educational offerings is to provide you with objective, cutting edge knowledge of the advances in science, technology, and medical practice.
We are Committed to Your Success - Our goal and purpose is to support your success in practice and business. We have created what we believe are the highest quality online and live courses available in the marketplace today. If there is a way that we can support you more, please This email address is being protected from spambots. You need JavaScript enabled to view it. to discuss. We are listening.