Rx Pad
Improving the Health of Your Clinical Practice
Management of Critically Ill Patients in the Monoplace Hyperbaric Chamber (Part 2)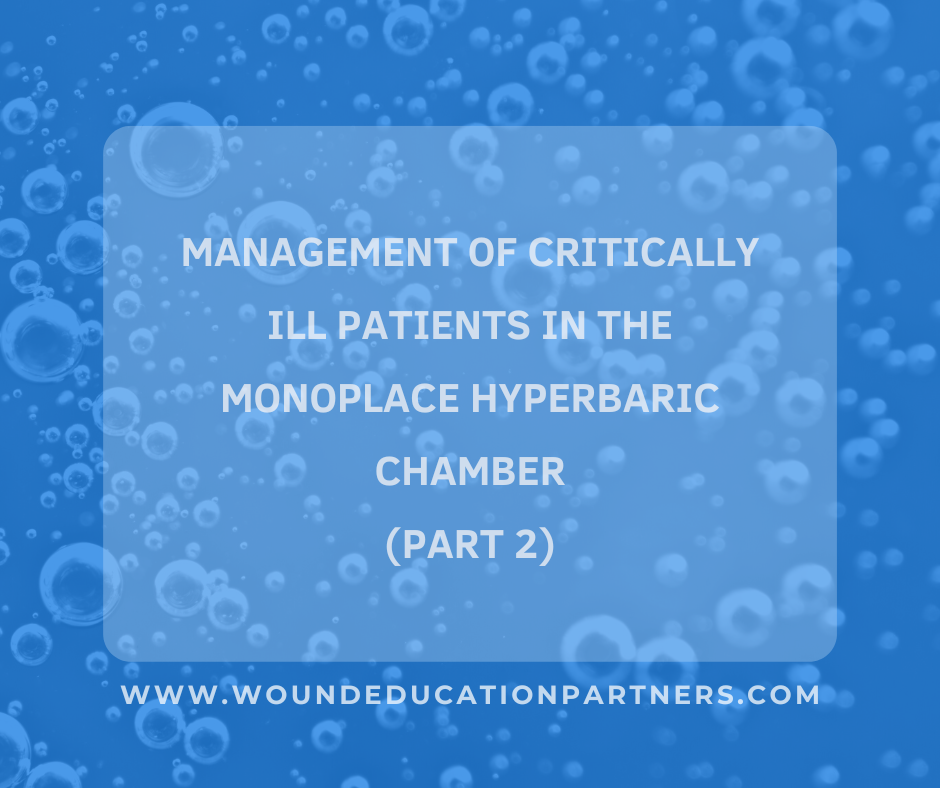 APPROACH TO THE CRITICALLY ILL PATIENT
The team concept is an important element of the optimal management of patients in the intensive care unit (ICU). Successful patient management depends upon the integration of physicians, advanced practice clinicians (nurse practitioners and physician assistants), nurses, respiratory therapists, social workers, case managers, ethicists, and others. For the ICU patient requiring hyperbaric oxygen (HBO2) therapy, it is imperative that the hyperbaric unit be staffed and configured as an extension of the ICU; otherwise, there is risk that the level of care may be lower than in the ICU, which is potentially dangerous to the patient. Therefore, the HBO2 unit should be staffed with nurses, therapists, and physicians knowledgeable in the management of the critically ill patient, as well as possessing a thorough understanding of hyperbaric physiology and the medical techniques unique to HBO2.
Furthermore, since the patient generally must be transported to and from the ICU to the chamber, perhaps several times per day, the patient may be exposed to additional risks.(7,30,35) Alternatively, the monoplace chamber either resides in the ICU or is moved to the ICU for the treatment of critically ill patients.(62) The risk/benefit ratio of HBO2 and the risk of transport must be carefully evaluated in critically ill patients. A hypothetical example would be a patient with respiratory distress syndrome with multiple chest tubes requiring intravenous pressors, high partial pressures of oxygen (O2), and high airway pressures, who develops clostridial gas gangrene. Most hyperbaric physicians would agree that gas gangrene should be treated with HBO2, but to move such a patient to the chamber, much less to treat him or her in the chamber (monoplace or multiplace), may present more risk than withholding HBO2. Experience and careful weighing of the risk versus the benefit in these situations is important.
There are many details of the ICU patient that require attention prior to the transport of the patient to the chamber for hyperbaric treatment. These include informed consent, recording of the ventilator settings and blood gases, filling the endotracheal tube cuff with sterile saline, capping off unnecessary intravenous catheters and drains, placing chest tubes to Heimlich one-way valves, changing arterial pressure and electrocardiograph (ECG) monitors to the appropriate portable units, and adequately sedating the patient if clinically indicated. Also, it is very important to conduct a safety time-out(3) and ensure no prohibited items enter the chamber prior to compression. In addition, the patient will need to be able to equalize middle-ear pressure during compression and decompression. These items will be discussed in more detail below.
In addition, it is critically important that mistakes are not made regarding any lines that are disconnected and reconnected. Treating critically patients in monoplace chambers requires multiple lines and monitoring devices and catheters to be disconnected and reconnected multiple times per HBO2 treatment. This Food and Drug Administration (FDA) website discusses such mishaps: https://www.fda.gov/MedicalDevices/Safety/AlertsandNotices/TubingandLuerMisconnections/ ucm313275.htm In addition to verifying that no prohibited items enter the chamber, a safety time-out is also critically important to verify all intravenous (IV), connections, proper drugs, correct IV drip rates, security of mechanical ventilation tubing, adequacy of mechanical ventilation, and no disallowed items in the chamber.(3)
Excerpted from Hyperbaric Medicine Practice 4th Edition with permission from the publisher. Reference Chapter 4, Management of Critically Ill Patients in the Monoplace Hyperbaric Chamber by Lindell K. Weaver.
Are you seeking basic training in hyperbaric medicine? Our UHMS approved 40-hour Introduction to Hyperbaric Medicine training course will teach you and your team the key fundamental elements and concepts in practicing hyperbaric medicine safely and effectively.
Stay Informed
When you subscribe to the blog, we will send you an e-mail when there are new updates on the site so you wouldn't miss them.
Comments
No comments made yet. Be the first to submit a comment