Rx Pad
Improving the Health of Your Clinical Practice
Is the Introductory Course in Hyperbaric Medicine right for me?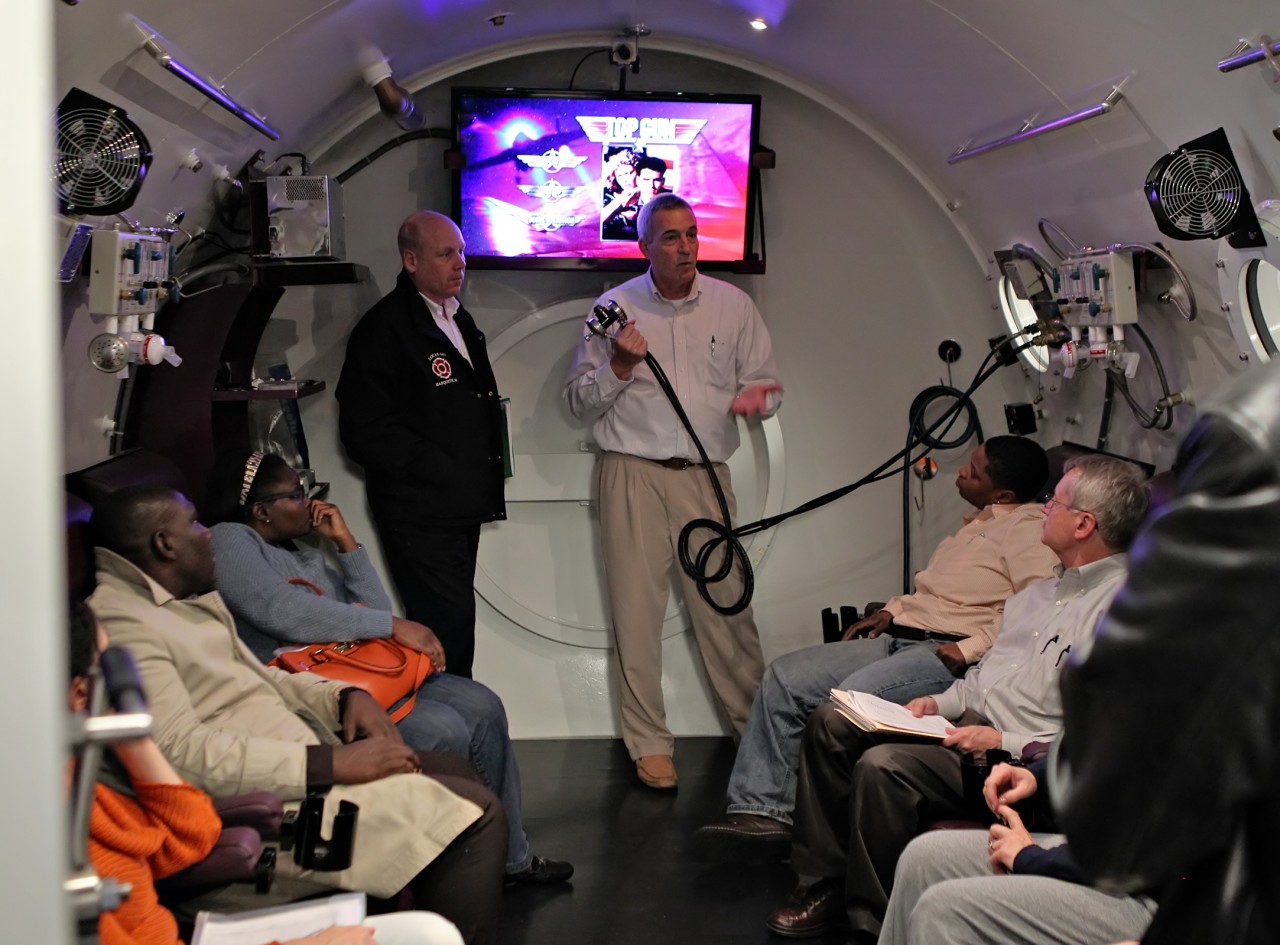 Below you'll find some of the questions we get asked about the Introductory Course in Hyperbaric Medicine (ICHM) - along with our honest answers. We'll tell you everything about the program and what it takes so you can make the best enrollment decision for you.
What is the Introductory Course in Hyperbaric Medicine (ICHM)?
This is an intense four day, 40-hour CE course approved by the UHMS & NBDHMT as an Introductory Course in Hyperbaric Medicine and intended for a wide audience of health care providers involved in advanced wound care management and hyperbaric medicine. The course provides training in the fundamentals of hyperbaric medicine, addressing key elements and concepts which will assist participants in practicing hyperbaric medicine safety and effectively. This course is an opportunity for individuals to gain experience with IV pass-throughs, HBOT IV pumps, non-invasive monitoring ECG and NIBP, SCBA's, ventilators, and more. Please join us for this hands-on training at one of the many course locations offered around the U.S. and the globe. See a list of all upcoming courses.
There are no prerequisites for attending the ICHM although if an individual is taking the course to become certified through the National Board of Diving & Hyperbaric Medical Technology, there are qualifying vocations required such as registered nurse, respiratory therapist, EMT, etc.
What makes Wound Care Education Partners' ICHM better?
The primary objective when planning our educational offerings is to provide you with objective, cutting edge knowledge of the advances in science, technology, and medical practice. Our ICHM faculty is comprised of the most respected and trusted authorities, practitioners and scientists. Whether you participate in a live course or an online course you will be learning from expert faculty.
Our goal and purpose is to support your success in medical practice. We have created what we believe is the highest quality ICHM available in the marketplace today. If there is a way that we can support you more, please contact us to discuss. We are listening.
I can't get time off work to attend.
Every licensed medical practitioner needs to earn continuing education credits each year. Attending an ICHM provides you the opportunity to earn CME/CEU credits while learning a new usable skill, or getting a thorough review of hyperbaric medicine. Either way, the skills and knowledge you gain from attending the ICHM are immediately applicable in the clinic setting.

The ICHM is accredited by the ACCME for physician CME credits, DPM credits through the Florida Board of Podiatric Medicine, Nursing credits through the Florida State Board of Nursing, CHT and CHRN credits through the NBDHMT, and Allied Healthcare Provider category B credits for licenses RD, CHT, CRT, RRT, RCP.

There isn't a course near me and I don't have the money to attend a course that requires me to travel.
We understand budget constraints. That's why we have designed our ICHM to be the most affordable primary course in hyperbaric medicine available on the market. We keep our course fees as low as possible - keeping travel expenses low is up to you. You choose the travel method that is most affordable for you, be it car, plane, train, or other. As for hotel costs, if the host hospital has negotiated a discounted rate with a nearby hotel we pass that savings on to you. If we have hotel recommendations, they are found in the course flyer available for download on the event calendar listing. Find all upcoming event listings here.
Also, do you know that we will bring an ICHM to your facility? How? Click here to learn about the benefits and requirements of hosting an ICHM at your facility. It is much easier and more affordable that you think!
Can I buy just a portion of the course?
No. The ICHM is a comprehensive course; the modules in the course curriculum are designed to build knowledge and skills as the course progresses. Skipping one or more modules creates gaps in learning. This rule even applies for practitioners who want to attend the course as a review of hyperbaric medicine.
How do I enroll in an ICHM?
Visit our Upcoming Events Calendar to see a full list of courses. Click on the course you want to attend. Register online, email us at This email address is being protected from spambots. You need JavaScript enabled to view it., or call us at +1-561-776-6066. We look forward to seeing you in class soon!
Stay Informed
When you subscribe to the blog, we will send you an e-mail when there are new updates on the site so you wouldn't miss them.
Comments
No comments made yet. Be the first to submit a comment