We get a lot of questions from hospital administrators and clinic directors asking what makes our Introductory Course in Hyperbaric Medicine unique. While there are many benefits to hosting hyperbaric team training through Wound Care Education Partners (WCEP), we have broken out the four most valuable reasons why hosting a live, classroom-based Introductory Course in Hyperbaric Medicine with WCEP may be right for your facility. Watch this short, insightful video to find answers before you book hyperbaric team training with any organization.
Video: 4 Benefits of Hyperbaric Team Training at Your Facility
Don't Just Take Our Word For It...
Below are a few testimonials from just a handful of students who have taken our Introductory Course in Hyperbaric Medicine. There is also a testimonial from a clinic administor who organized the course at her facility.
| | |
| --- | --- |
| | "I learned a lot in a short period. The best course I have ever attended." - Mahin B. |
| | "The instructors were very professional and most knowledgeable, with a sense of humor to make the lectures more interesting." - Frieda S. |
| | "It had been a while (5 years) since my original course, so this was a very nice review, good use of my time." - Joseph D. |
| | "[We] would like to thank you for providing, again, such an excellent course for our staff. The course is still going on, but I wanted to take a moment to thank you. I have sat through the majority of the course and the instruction has been outstanding. Julio engages the staff and keeps them focus even during the more difficult lectures. Dr. White also presented an engaging and reasonable approach to the medicine of hyperbarics. Great job! And thank you." -Valerie L. |
We Offer the Highest Quality, Most Affordable, Accredited Introductory Course in Hyperbaric Medicine Available in the U.S.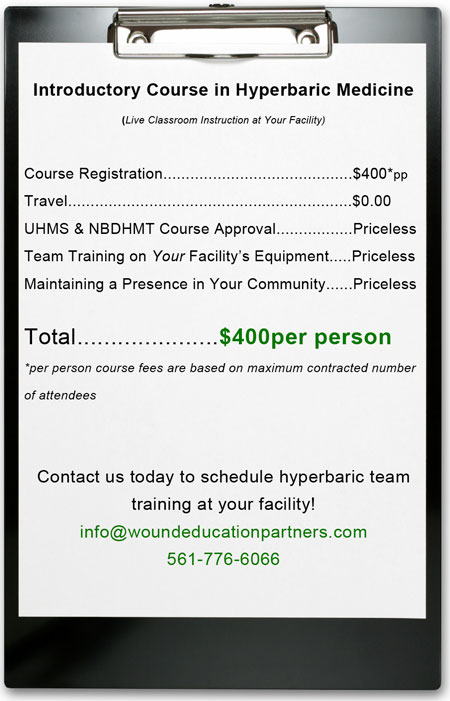 Contact Us Today to Schedule a Course at Your Facility!
Email: This email address is being protected from spambots. You need JavaScript enabled to view it.
Phone: +1-561-776-6066
Still want more details? Click here to find more details about hosting a live, classoom-based Introductory Course in Hyperbaric Medicine at your facility.