"Before anything else, preparation is the key to success." - Alexandar Graham Bell
It's time to start planning now to earn your 2019 CME/CNE/CEU credits. Don't know how to start? Below are five questions to help you start the planning process, and watch the short video to get all the details.

How many continuing education credits do you need to earn next year?

What educational courses do you reasonably have time to attend? If you are short on time, possibly online education is a better option for you traveling to a course.

Browse the full list of online courses.

What is your budget? Will your employer contribute to your professional development or will all your expenses be out of pocket? What portion of your professional development can be deducted on your personal taxes?

What time limitations do your work schedule and personal obligations present?

If attending a live course, how much time can you afford to be away from family and the office? A full week, a long weekend?

Browse the calendar of upcoming courses.

Is a domestic or international location better for you? Can your family travel with you?
Watch this short video on how to plan your CMEs/CEUs for next year.
(Note: The video was originally created in 2015, but all of the content discussed is 100% applicable to you right now.)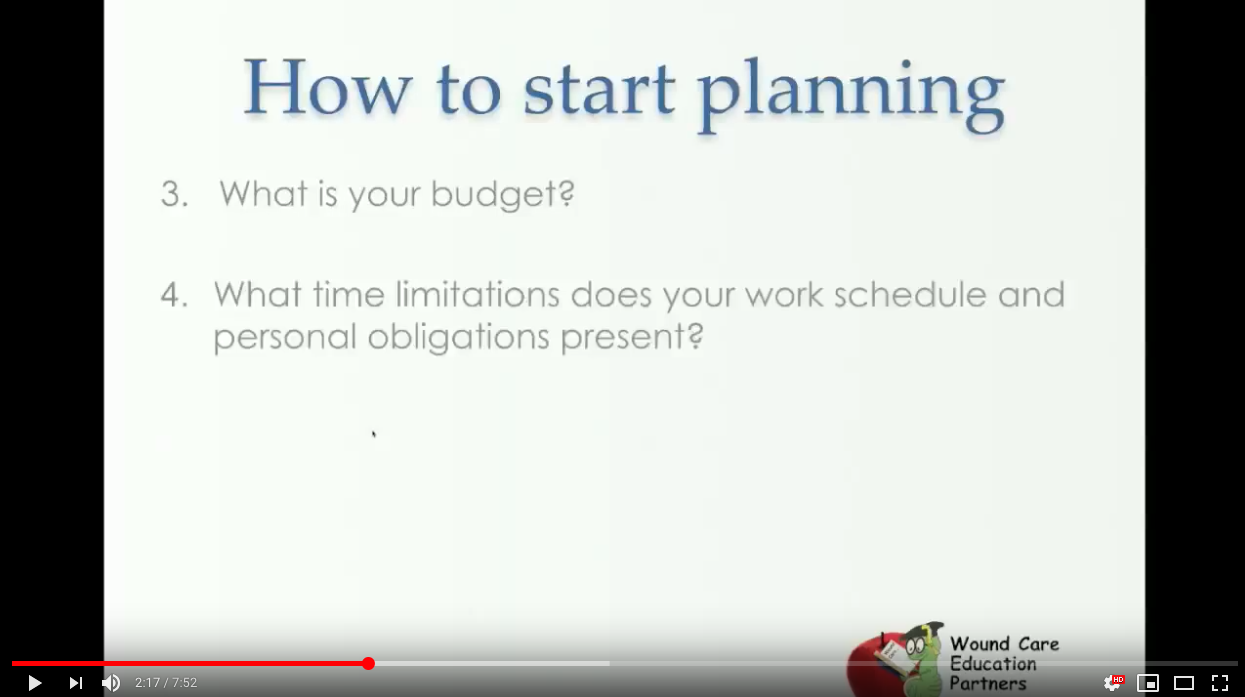 Hospital and Clinic Administrators
If you are a department head or clinic or hospital administrator we invite you to consider contracting with Wound Care Education Partners for a live continuing education course at your facility.
Our most popular live courses are:
What are the benefits of training at your facility? Click to find out...
We can also custom design a live or online CME/CNE/CEU course to meet the needs of your staff. We have the experience and resources necessary to serve all of your continuing education needs for 2015!
Ready to take the next step? Contact us now at the details below.

Let's get started planning your success in 2019!

Email: This email address is being protected from spambots. You need JavaScript enabled to view it.
Phone: 561-776-6066