Wound Care Certification Basic Training and Review- (STAFF REGISTRATION) - Indianapolis, IN
Welcome to the STAFF registration page for Wound Care Certification Basic Training and Review Course in Indianapolis, IN!
Are you seeking certification in wound care?
Or are you seeking CMEs or CEUs in wound care?
If YES, this course is for you!
Students who take this online course + use the included study guide might find themselves to be overprepared to sit for a wound certification exam with organizations such as wound American Board of Wound Management (ABWM), American Professional Wound Care Association (APWCA), CWCN, National Alliance of Wound Care (NAWC), and others.
(Note: This course is also a great review for those seeking CMEs/CEUs in wound care)
Date: January 24, 2020
Credit hours: 25.5 AMA PRA Category 1 Credits(TM)
Eligible license types: MD, DO, RN, LPN, CNS, ARNP, CRT, RRT, RCP
Times: 7:30am - 7:30pm
WHAT'S INCLUDED
15 hour online precourse

10.5 hours of classroom-based learning through the Wound Care Review course

9 lecture modules

Debridement-specific lecture + hands on practicum

A final exam

Certificate of course completion

Wound Care Certification Study Guide, 2nd Edition, a professional published 350-page study guide that includes a post-course exam complete with answers and explanations.
Classroom Course Overview
Module 1: Wounds... Disruption of Skin Integrity

Learn wound care anatomy and classification; learn how to approach each patient with regard to their particular desired outcomes; learn how wounds heal; discuss the biochemical processes and bio-films.
Module 2: Wound Evaluation, Assessment, and Documentation

Learn how to approach the wounded patient, taking a systematic approach.
Module 3: Bio-film and the Chronic Wound

Learn how to use bio-film in respect to chronic wound care.
Module 4: Pressure Ulcers: The Wound Previously Known as Decubitus

Pressure injuries; practical aspects of wound care and hyperbaric medicine.
Module 5: Management of Lower Extremity Ulcers

Learn the causes, disease processes; taking a systematic approach to wound management.
Module 6: Skin Cancer & Other Diseases with Skin Manifestations

Learn how to identify and manage skin cancer and other diseases with skin manifestations.
Module 7: HBO & The Walking Wounded

A very broad overview of the mechanisms of action of HBO and how it is used with respect to the wounded patient.
Module 8: Selecting the Right Dressing: Major Dressing Classifications

Learn the appropriate application of different dressings, when to use and not to use certain dressings, what are the advantages/disadvantages of certain dressings.
Module 9: Other Modalities and Debridement Used in Wound Management

Learn some of the other treatment options, not already discussed, that wound healers need to know to support patient's desired outcomes, such as: pneumatic compression pumps, hydrotherapy, electrical stimulation, ultrasound, and others.
Debridement Module and Hands-On Practicum
The live course includes a debridement practicum that includes lecture and hands-on practicum, "Debridement: Learn How, When, and Why."
In the debridement practicum you will learn:
Methods of debridement
When a wound may need debridement
Safety concerns related to debridement
The hands-on practicum that follows the lecture will allow you to gain hands-on practice with debridement tools and techniques.
COURSE OBJECTIVES
The second purpose of the program is to review the major sanctioned and cutting-edge techniques and alternatives in advanced skin and wound care management principles.
The third purpose is to provide a course designed to prepare the learner for the major wound care certification exams in the marketplace today.
Accreditation Statement
Jointly Provided: "This activity has been planned and implemented in accordance with the accreditation requirements and policies of the Accreditation Council for Continuing Medical Education (ACCME) through the joint providership of Undersea and Hyperbaric Medical Society and Wound Care Education Partners. The Undersea and Hyperbaric Medical Society is accredited by the ACCME to provide continuing medical education for physicians."
Designation Statement: The Undersea and Hyperbaric Medical Society designates this live activity (10.5 hours) enduring material (15 hours) for a maximum of 25.5 AMA PRA Category 1 Credit(s)™. Physicians should claim only the credit commensurate with the extent of their participation in the activity.
Full Disclosure Statement
All faculty members and planners participating in continuing medical education activities sponsored by Wound Care Education Partners expected to disclose to the participants any relevant financial relationships with commercial interests. Full disclosure of faculty and planner relevant financial relationships will be made at the activity.
UHMS Disclaimer
The information provided at this CME activity is for Continuing Medical Education purposes only. The lecture content, statements or opinions expressed, however, do not necessarily represent those of the Undersea and Hyperbaric Medical Society (UHMS), its affiliates or its employees.
Disclosures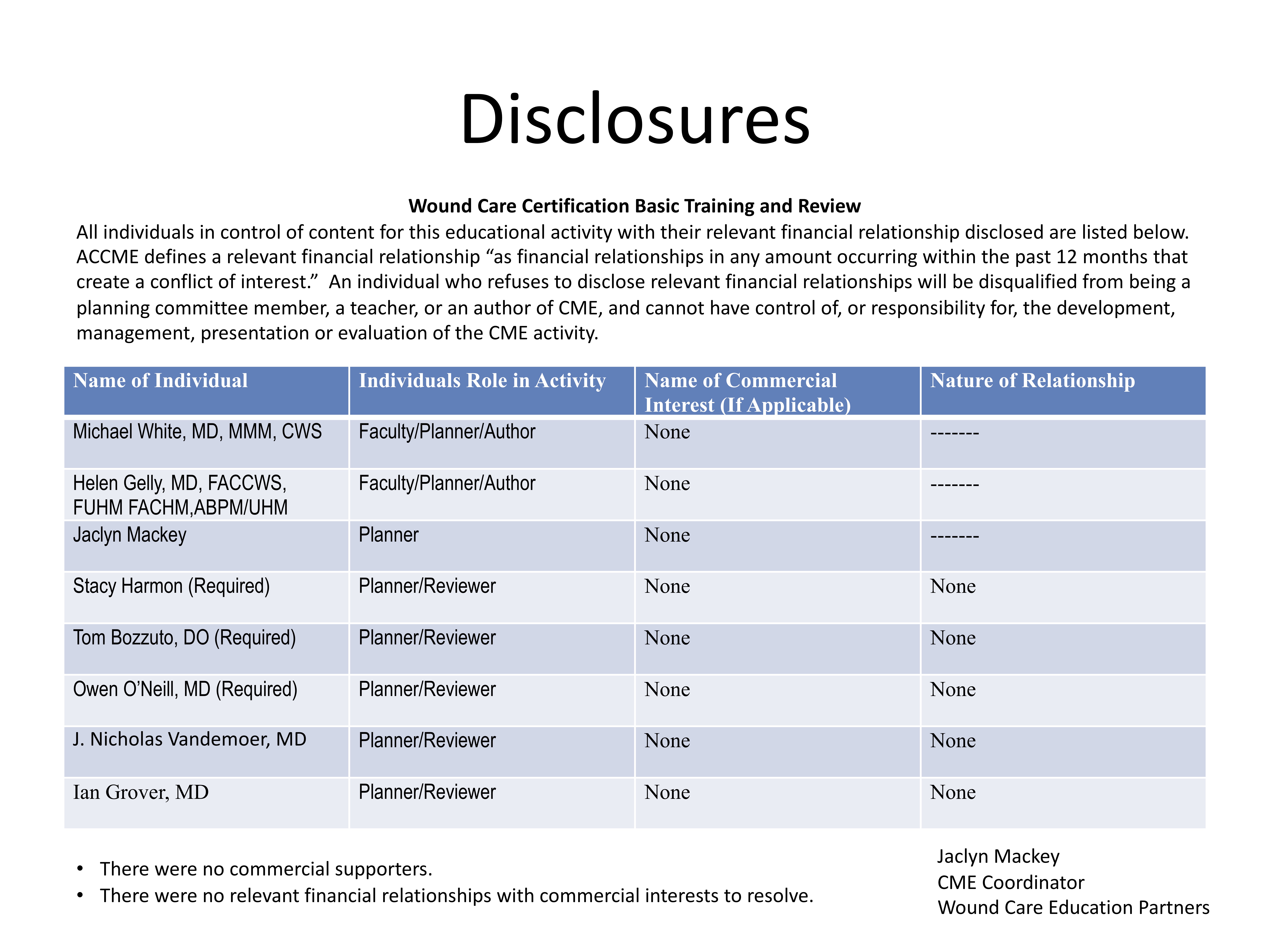 LOGISTICS
A lite breakfast and lunch will be provided by the host facility for each of the course days. No additional fee is required.
Location:
Onsite Contact
Andrea Lyon
Email: This email address is being protected from spambots. You need JavaScript enabled to view it.
REGISTRATION
Manual Registration
Complete and return the following PDF registration form.

Manual_Registration_Form_WCEP.pdf
Online Registration
For online registration, you will need a user account on this website and will need to be logged in.
Click Here to Register for a User Account Now
If you already have an account, please log in by clicking the Log In button above. You will find the Register buttons at the bottom of the page once you log in.
Please contact us for group discount pricing (3 or more participants)