Introductory Course in Hyperbaric Medicine - Mobile, AL
Welcome to the OPEN registration page for Introductory Course in Hyperbaric Medicine at Springhill Medical Center in Mobile, AL!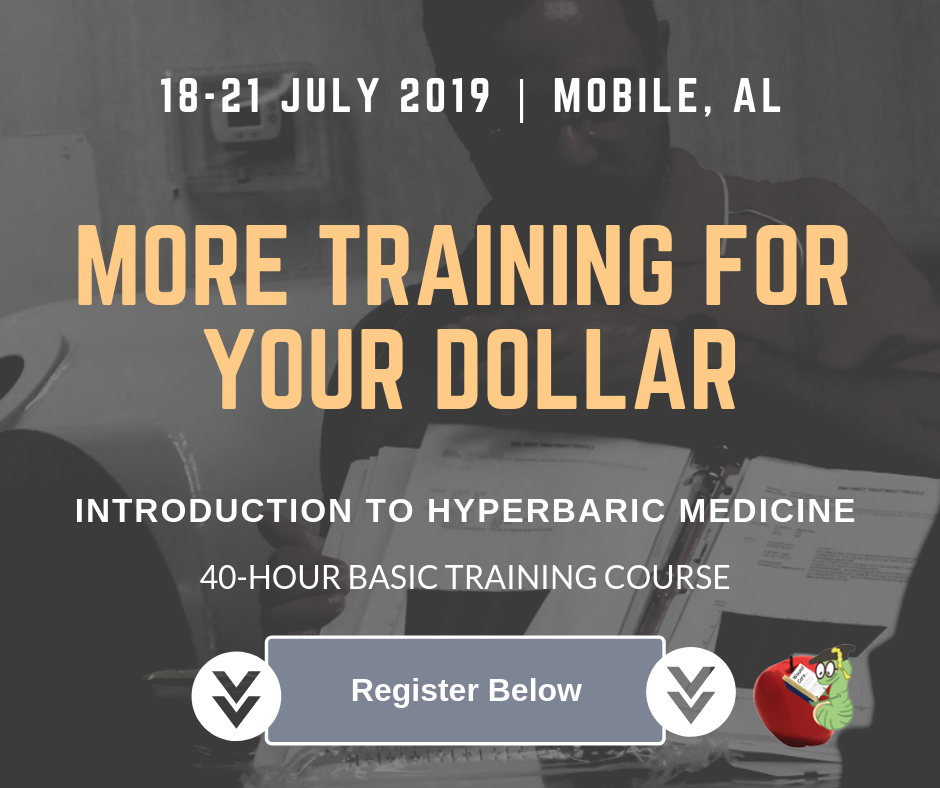 Course Dates: July 18-21, 2019

This is an intense four day, 40-hour credit course approved by the UHMS & NBDHMT as an Introductory Course in Hyperbaric Medicine and intended for a wide audience of health care providers involved in advanced wound care management, including the physician, registered nurse, nurse practitioner, clinical nurse specialist, registered respiratory therapist, physical therapist, physician's assistant, EMT's and paramedics.
Credit Hours: 40
Cost: $ 750.00
License: MD, DO, DPM (Florida only), RN, LPN, CNS, ARNP, CRT, RRT, RCP, CHT, CHRN
Get More Training for Your Dollar:
This particular course at the Springhill Medical Center provides a unique learning environment as the chamber configuration allows us to demonstrate IV passthroughs, IV pumps, non-invasive blood pressure monitoring, ECG monitoring, 2 types of ventilator set-ups, and pressure monitoring.
As one of the few critical care facilities left on the central Gulf Coast, this educational venue allows for hands on applications of equipment that is becoming a lost art.
Case presentations are up to date and relevant to your practice in the management of hyperbaric practice. The cost for lodging and meals is reasonable in Mobile, AL and convenient with numerous restaurants in close proximity to the hotels and hospital.
LOGISTICS
A lite breakfast and lunch will be provided by the host facility for each of the course days. No additional fee is required.
Course Hours:
Start 7:00am, end 6:00pm each day
Where to report for class:

The street address is 3715 Dauphin Street in Mobile, AL.
Airport
Mobile Regional Airport
Hotel
The recommended hotel is the Holiday Inn Mobile-Airport. You will need to state that you are on business with the Springhill Medical Center to get the hospital rate of $95/night plus tax and fees. The following is the link to the hotel http://www.ihg.com/holidayinn/hotels/us/en/mobile/mobar/hoteldetail
On-Site Contact
Julio R. Garcia CHT, BSN, ACHRN
Program Director, Center for Wound Care and Hyperbarics, Springhill Medical Center
251.460.5461 Unit
251.461.1300 Direct
This email address is being protected from spambots. You need JavaScript enabled to view it.
Registration and Assistance:
Jaclyn Mackey, Director of Operations
Or, Andrew Sisko, Head of Customer Service
Phone: 561-776-6066
Emails: This email address is being protected from spambots. You need JavaScript enabled to view it.
Course Cancellation Policy
If course registrations do not meet the minimum number of attendees, Wound Care Education Partners (WCEP) will cancel the class no less than 30 calendar days prior to the start date of the course. WCEP is not responsible for changes in travel arrangements necessary by any course registrants. Registrants will be notified via email, and a notification will be posted on the course webpage. Questions can be directed to info @ woundeducationpartners.com
REGISTER HERE
Manual Registration
For online registration, you will need a user account on this website and will need to be logged in.
Click Here to Register for a User Account Now
If you already have an account, please log in by clicking the Log In button above. You will find the Register buttons at the bottom of the page once you log in.
Please contact us for group discount pricing (3 or more participants)